Cumberland County School Board – Who to Elect?
Cumberland County, NC  – School Board positions for Cumberland County are probably the most compelling reason to get out and vote this year.
It's a decision that will affect not only the education but the health and welfare of approximately 50,000 students.
The three candidates who get the most votes in this November election will win seats on the school board. Up for election and on the ballot are incumbent board members Greg West (R), Charles McKellar (D), and Judy Musgrave (D). The other five candidates are Jacquelyn Brown (D), Julissa Jumper (R), Nyrell Melvin (R), John Ornelas (R), and Carol Stubbs (D) according to the Cumberland County Board of Elections.
While elections for school board members are non-partisan it has become critical in all upcoming elections to know the candidates and whether they affiliate with Democrat emotional incontinence or Republican logic and common sense. No rule exists that says you can't consider their party affiliation even if the position is non-partisan. You most certainly can,… and should! The health and welfare of your children now depend on it more than ever; It's "For the Children"!
The three candidates you should vote for are: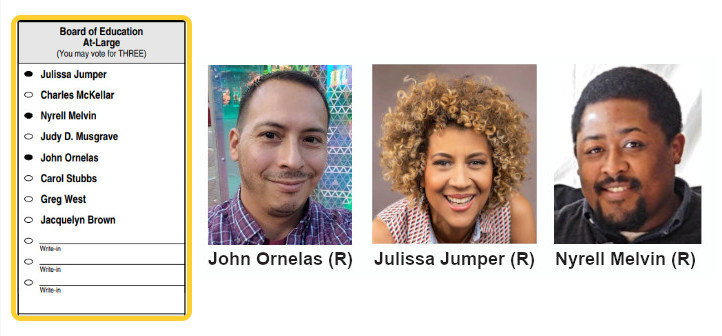 Also at stake is the eradication of socially destructive concepts such as Critical Race Theory (CRT), other divisive ideologies [racist anti-White rhetoric], gender "identity" lessons, Marxism portrayed as "Equity", racism disguised as "Diversity Training", and Trans-gender and LGBTQ ideology disguised as "Science", among several others.
The Fayetteville Observer, a highly biased and liberal local Fayetteville, NC newspaper, attempted to lull its readers into complacency by citing in an article that; "Two candidates – Jumper and Melvin – say they oppose a theory that is not a major issue in Cumberland County Schools." and "West said he was not familiar with the positions of other candidates, but Critical Race Theory is "not an issue in Cumberland County Schools."
TPTN Action News attempted to contact Greg West for clarification of two issues regarding the CCBOE but never received a reply from him. Because Greg West apparently doesn't deem his constituents worthy of a response we at TPTN who also have children in Cumberland County schools can't consider Greg West a worthy candidate in these elections.
Actions have consequences,… inaction also has consequences.
And who can forget the patently unethical racist attitude of the Democrats on the Cumberland County School Board?
Aberrant Ideology
Aberrant ideology has been found;
F.A.C.T.S. not Fiction
Fairness and Accountability in the Classroom for Teachers and Students (F.A.C.T.S.) was created in response to reports received by the Office of the Lieutenant Governor regarding alleged cases of indoctrination in North Carolina public schools. The F.A.C.T.S. Task Force aims to provide support to parents, teachers, and, most importantly, students in North Carolina by creating an infrastructure by which individuals can report perceived instances of indoctrination that they see or experience within the state education system. It was the goal of the Office that, by doing so, it might obtain a better understanding of the scope and breadth of this problem and whether or not these were isolated cases or were a part of a larger and more widespread issue.
The First F.A.C.T.S report [Aug 24, 2021] is out, and here are the findings;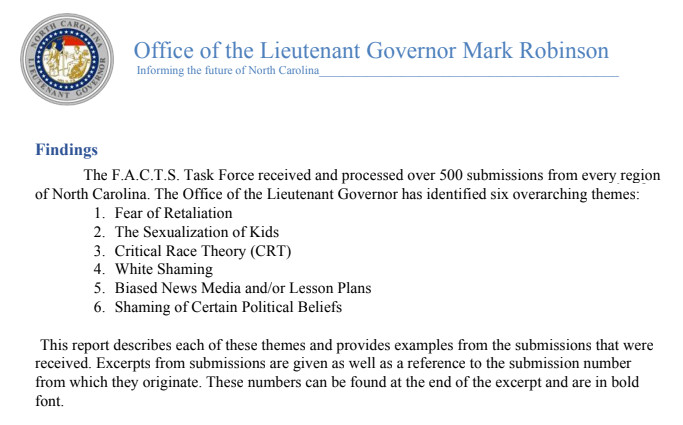 North Carolina's Critical Race Theory (CRT) task force, formed by Lt. Gov. Mark Robinson in March 2021, has released its first report. In the report, parents, educators, and students confirm the proliferation of CRT in primary and secondary education in the state. One staff member for the Lieutenant Governor's office, commenting on the size of the report, said CRT in North Carolina's schools was a "way bigger problem than we thought."
Lt. Gov. Mark Robinson asks that you continue to report any cases of indoctrination you believe to be occurring no matter how minor you're told they are or you believe them to be.
If you want, you can read all the submissions currently submitted here: ALL SUBMISSIONS
We at TPTN Action News, having read the submissions, believe that the obviously liberal and Democrat submissions that attempt to ridicule and minimize the other submissions and Lt. Gov. Mark Robinson serve more to ratify and give substance and credibility to the other submissions and Lt. Gov. Mark Robinson's assertions rather than detract from them.
We all know that the liberal Democrats (redundant, I know) are just simply following the common and now easily recognized liberal tactic Saul Alinsky's RULE 12: Pick the target, freeze it, personalize it, and polarize it." Cut off the support network and isolate the target from sympathy. Go after people and not institutions; people hurt faster than institutions. (This cruel, and in the past effective tactic no longer works because we're all wise to it now. Direct, personalized criticism and ridicule do not work on a sound logical mind imbued with common sense.) Like Fayetteville Observer reporter Steve DeVane attempted and failed to do.

One wonders how Steve DeVane could write an article for the Fayetteville Observer and not be aware of an official report out of the NC Governor's Office that explicitly states that there is CRT in our state's schools, AND YES, even in Cumberland County and that it is far more prevalent than we ever realized. Or maybe he was aware? Shoddy reporting? Apathy? Hidden liberal agenda? You'll have to ask Mr. DeVane.
Article: Eight candidates seeking at-large seats on the Cumberland County Board of Education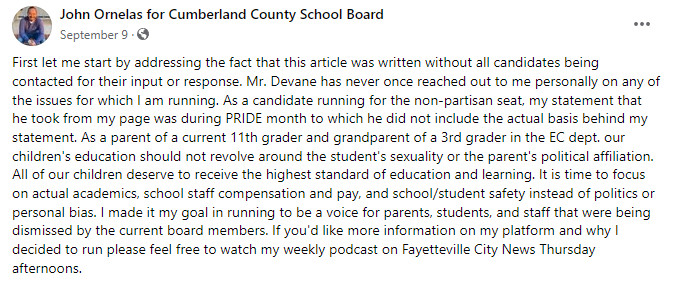 Yes, Even in Cumberland County
DATE OF INCIDENT
2021-02-17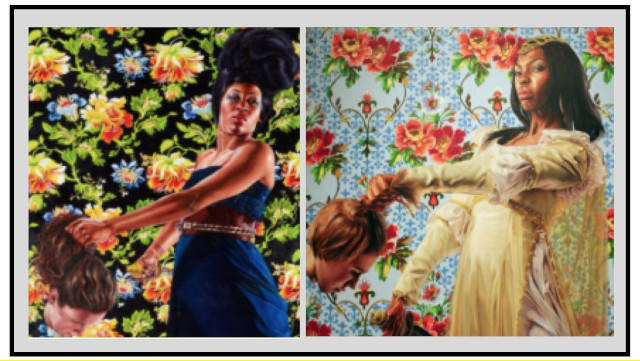 DESCRIPTION OF ISSUE [10, 11, 12 year-olds exposed to racist human decapitation as "art"]
My son's art teacher required an assignment from an African American artist Kehinde Wiley. This artist was without a doubt racist and I didn't think much of it until I came across a specific photo. Once seeing this photo, I immediately began sending the teacher a message but was informed by a family member that maybe I was overreacting so I stopped. This photo was of a black woman, holding the severed head of a white woman with her left hand and what appeared to be a knife in her right hand. it was very flowery and very bright. This was the worst picture out of all the examples she provided the students to do a digital mosaic with. Of course, I did not allow my son who is only 11 years old to do anything with that specific photo. He asked me questions about the photo and I told him that it wasn't right for the teacher to have a photo like that in her classroom. I feel that the only reason that people accepted it was because of the colors portrayed in it and if those colors were reversed there would have been more outrage over it. Now, I am not a racist person but this photo I feel was very unacceptable. I never went to the school about it and was talking to another parent last night about it and showed her the photo and she instantly told me to send my concern to you. Nothing like this has happened since, trust me I've been watching and like I said above I never spoke to the school or the teacher about it. It happened at Mac Williams Middle School in Cumberland County and the Art Teacher teaches the 6th Grade and her name is Mrs. [Hannah F.] Pritchard. I don't want anyone knowing that I reached out to you and said anything about it as I don't want my child to have any issues in school. So please keep my name anonymous from the school if you choose to do anything with it. I waited this long because I didn't think it would do any good at all to say anything to anyone. Thanks,
You can be sure that the Democrats will pull out the liberal tactic of "moving the goalposts." Remember, the Fayetteville Observer and a possible RINO stated; "Critical Race Theory is 'not an issue in Cumberland County Schools.'"
Now that the above proof that 10, 11, 12 year-olds have been exposed to racist human decapitation as "art" in Mac Williams Middle School in Cumberland County they will attempt to minimize this incident of indoctrination stating that it is "only one time" which is certainly not the truth. If you gave them five instances of indoctrination, they'd demand ten. Give them ten and then they'd demand fifty. They'd move the goalposts every time and then claim you'd failed to prove anything.
Here's a truth that they don't want you to realize; You don't have to prove anything to Democrats [liberals]. You only need to prove your assertions to other parents, the courts, and your legislators as a body politic (not individual politicians). The Fayetteville Observer, and yes, even TPTN Action News, are not the arbiters of what is right or wrong, true or false, moral or immoral. We report what we report and it is up to you to make those decisions for yourself based on your training, education, and life experiences.
In addition to there being substantial objective proof that there is indoctrination in Cumberland County schools, there is also the fact that Greg West should never have made such an oppositional determination and voiced it publicly without putting it before the whole school board as a body politic first.
Cumberland County Schools' very own policies clearly state that Greg West had no authority making such an assertion and the Fayetteville Observer had no business portraying West's assertion as an opinion held by the school board as a "body corporate [politic]". Where is the school board's passed motion to accept any report that substantiates such an opinion?
If anything, Ornelas, Jumper, and Melvin, once elected, should make a motion to adopt Lt. Gov. Mark Robinson's F.A.C.T.S. report as an accurate and fair representation of indoctrination in NC Schools, especially Cumberland County, and that it be relied on as a basis for subsequent corrective policies in our schools.
Policy Code: 2100 Board Member Legal Status
|
The board of education is a body corporate. Members of the board have authority only when acting as a board legally in a duly authorized and called regular, special or emergency meeting. No authority accrues to any member as an individual; all powers accrue to the board as a corporate unit. The board will not be bound in any way by any statement or action on the part of an individual member, except when such action is at the specific instruction of the board. – Legal References: G.S. 115C-40, -41, Cross References: Board Authority and Duties (policy 1010), Replaces: ABC (in part) Revised June 10, 1997, BBBA (in part) (Adopted July 1, 1985), Adopted: August 10, 2010
CCBOE candidate, Julissa Jumper, shows that she understands the problem quite well;
As a candidate sitting on the panel, I saw a few things that affected me… The first was in response to a question that was asked about CRT. It appears current school board members are not well versed in how CRT ideologies have been weaved into our NC education standards. Some candidates spoke out in favor of what they believe is CRT and some denied it is being taught in our schools. There were only a few who recognized CRT and the dangers of it in our schools. CRT is not the teaching of American history and equal rights for all. It is a deliberate program of instruction to teach students to construct a social, cultural, racial, gender and sexual identity to confuse and divide our children. This is a big issue for many, and for our board not to be well versed on this issue is unacceptable to many of the parents and teachers I have spoken with. I'll reiterate my position on this issue: there is no place for such divisive, identity-oriented education in our schools, our leaders must not turn a blind eye to it, and it interferes hugely in our urgent goal of teaching students to be highly proficient in the core subjects of reading, writing and math. ~ Julissa Jumper
Despite North Carolina banning the promotion of Critical Race Theory as of 2021, students were reporting to their parents that their teachers were making alarming comments such as telling the children they should be ashamed if they are "white and Christian." North Carolina schools also came under fire for allowing minors to make decisions on discussing sensitive issues, ranging from abortions to vaccines to gender theory. Even more disturbing is the fact that some teachers, advisors, and administrators have counseled children not to tell their parents the content of sensitive subject matters discussed in schools. ~ Julissa Jumper
There will be no more using the school system as a platform for sexualizing children. The sexualization of our kids has gone too far, and we need to put an end to it with the help of parents, guardians, teachers, and me as your Board of Education (At-Large) Representative. I will encourage your children to read and learn math instead of getting them involved in gender studies or LGBT classes. We will still teach history but stick to the facts, not turning everything into the politically correct mess that it is today. ~ Nyrell Melvin
I believe the community should have a firm voice in the decisions of our schools. As your (At-Large) Board of Education Member, I will dedicate weekly office hours at suitable locations. If elected, I ensure the budget will be transparent & accessible, with ample time for feedback from the community before passage. I will be your voice!
I am not running for the school board just for the children that belong to any group. I am running for the school board for ALL the children. It does not bother me the least bit if they are straight, gay, bi, pan, or any other sexuality. It does not bother me if the parents are republican, democrat, or libertarian, or independent. What I care about is getting our children the proper education that will lead them to a bright future. Whether that would be directly into the workforce or college. What I care about is that those children in our EC department, receiving the therapies they need and deserve. I don't play the political BS games. ~ John Ornelas
When parents send their children to school, the expectation of the administrators are to provide a safe learning experience for our students. A lot of you were shocked to learn about a local high school teacher being charged with sexual exploitation of minors and a 1st grade teacher accused of trafficking drugs, CCS must update the vetting process of those who hold the responsibility for the health and welfare of our children while they are in their care. I agree that our teachers are more than deserving of a pay increase but we must recruit based on the quality of an educator rather than quantity. ~ John Ornelas
I'm not a big fan of book banning. However, what I would like and I would propose and push for our board is to when there's a new book that's going to be implemented in our schools, a list of those books should be sent out to teachers, whether it be passed out on on a, on a, paper copy. So parents when they're picking their child up from school saying, hey, these books are going to be added, or sent out email, or on their school's website saying these books are going to be added. So that way, parents are just as much as involved. And what books are going to be allowed in our schools, when their books are being proposed? We need to make ensure that we're asking the parents for their feedback so that way, on those certain books, that way they can actually look at those books. See for themselves, is this book inappropriate? Is it age appropriate for that school, but every, every book that's being proposed needs to go under the same level of scrutiny. And ensure that like I said, it's age appropriate for that school, that school library that's going to be in. And it's not suggesting or anything along those lines of, you know, something that might be pornographic or inappropriate to be in a school book.  ~John Ornelas [Fayetteville City News, Oct 6 at 12:26 pm, John Ornelas podcast on Fayetteville City News]
It is Not About LGBTQ Issues
The community has made it clear it is not about LGBTQ issues. It's about introducing sexual materials to children and not respecting parents.
Moronic Mask Mandates
The parents of Cumberland County want the best for our children. But how can we be sure that our children's mental well-being is a priority? We are witnessing board members voting for a mask mandate despite the CDC itself noting a lower risk of exposure currently, and despite many, many studies showing the ineffectiveness of masking. ~ Julissa Jumper
---
You have a 99.75% chance of surviving this virus if you do not have critical medical conditions. I disagree with forcing students (or adults) to wear a mask due to the health issues that it may cause. I do agree that masks do work with trained healthcare professionals. I believe that wearing a face coving should be a conscientious decision based on one's own research. Let me be positively clear about this; It is OK to get a vaccine (If that's what you want to do), and it is OK to wear a mask (If that's what you want to do). It is not, however, OK or acceptable to mandate or force anyone to do either. It should be a personal decision. This is America. ~ Nyrell Melvin
---
Although it has only been 2 days since masks in our schools have become optional, I have seen and heard where school teachers/staff have taken upon themselves to mask children without parental consent. With that, I have written to Chairman West to look into this matter. Below is my email to Chairman West.
Mr. West,
It has been brought to my attention that some teachers in our school system are taking it upon themselves to mask children without parental consent. Although this is only the second day that masks have become optional within CCS, it is also the second time that multiple parents have stated that their children were masked while in school by the staff when their child was not sent to school with a mask on their person or in their backpacks. This type of behavior cannot and should not be acceptable by anyone employed within our school system. It is my hope that as Chairman of Cumberland County School Board you enforce the board's decision to make masks optional and put schools on notice that this type of behavior is unacceptable and consequences will follow for their disregard to the school boards newly implemented policy.
Respectfully,
John Ornelas
jornelas4ccboe@gmail.com
A Tool to Achieve Excellence in Our Schools
A poster should be created and erected in clear view at all school board meetings listing topics that would be off-limits to teach, including:
Any anti-America rhetoric of any kind…PERIOD!
That the U.S. or specific states are fundamentally racist or sexist;

One race or sex is inherently superior to another race or sex.

An individual, solely by virtue of his or her race or sex, is inherently racist, sexist, or oppressive

whether consciously or unconsciously;

An individual should be discriminated against or receive adverse treatment solely or partly because of his or her race or sex.

An individual's moral character is necessarily determined by his or her race or sex.

An individual, solely by virtue of his or her race or sex, bears responsibility for actions committed in the past by other members of the same race or sex.

Any individual, solely by virtue of his or her race or sex, should feel discomfort, guilt, anguish, or any other form of psychological distress.

A meritocracy is inherently racist or sexist.

The United States was created by members of a particular race or sex for the purpose of oppressing members of another race or sex.

The United States government should be violently overthrown.

Particular character traits, values, moral or ethical codes, privileges, or beliefs should be ascribed to a race or sex, or to an individual because of the individual's race or sex.

The rule of law does not exist but instead is a series of power relationships and struggles among racial or other groups.

All Americans are not created equal and are not endowed by their Creator with certain unalienable rights, including life, liberty, and the pursuit of happiness.
In Conclusion

Get out and VOTE!
DISCLAIMER: The opinions, beliefs, and viewpoints expressed by the various authors and forum participants on this website do not necessarily reflect the opinions, beliefs, and viewpoints of TPTN Action News or the official policies of TPTN Action News. All content featured is provided for information purposes and is correct to the best of our knowledge at the time of posting. Errors may occur, and the information is provided without guarantee or endorsement.