Black Thugs Kill Working White Man for Pizza
Disturbing Facebook photos showing two Black murder suspects, including a 14-year-old Black boy, holding a gun that is believed to have been used in a pizza delivery driver's murder in Georgia were presented during a court hearing in the case on Friday.
The Black men Reginald Lofton, 14, and Jermaine Young, 21, are accused of robbing and murdering Papa John's pizza delivery man Shane Varnadore, a White working man, on March 1 at an apartment complex in Gwinnett County.
The Black men, Young and Lofton, who is being charged as an adult, face charges of felony murder, aggravated assault and armed robbery in Varnadore's shooting death. Varnadore, 28, was found dead from an apparent gunshot wound just before midnight.
During the court hearing, the lead Gwinnett County investigator testified that both Lofton and Young, who are from Lawrenceville, are blaming each other for killing Varnadore. No honor among murderous Black thieves.
'There were several times during the interview with facts changed, the story changed,' Gwinnett Police Detective Matthew Kenck said in court.
Police executed a search warrant a day after the murder and say the suspects hid the murder weapon and magazine inside pancake mix boxes in kitchen cabinets at an apartment. Additionally, officers found three of the four pizza boxes delivered that night behind washers and dryers.
Just hours before the delivery driver's murder, both suspects posted photos to Facebook allegedly showing them holding the same gun that was used to kill Varnadore.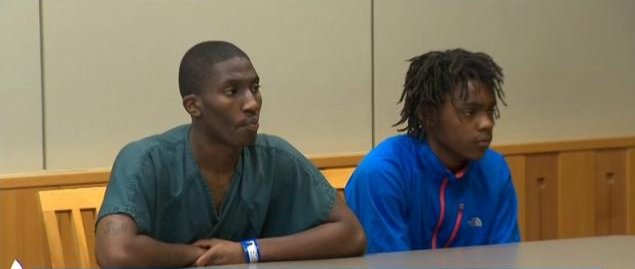 Police say the serial numbers were readable and solidify that claim. However, authorities are still working on the ballistic tests on the gun.
'It's been a lot to process over a short period of time. I'm glad they got the guys who did this and it's terrible that three people's lives have been ruined over a stupid act,' Varnadore's mother, Teresa, said. Vicious racial depravity by Blacks against Whites.
Both Lofton and Varnadore appear to be originally from the Chicago area and moved to Georgia to flee their troubled pasts.
Young has 22 criminal cases tied to his name, including arrests for drugs, domestic violence, robbery and aggravated battery.
Young's mother said that her son was not even supposed to be in Georgia during the murder and was scheduled to return to Chicago, but missed his bus that day.