Cumberland Co. N.C. Sheriff Candidate's Wife Makes Racist Post
Cumberland County, N.C. – Numerous Cumberland County residents contacted TPTN Action News and reported that Cumberland Co. Sheriff's candidate's wife, Trudy Wright, made an extremely racist and narcissistic Facebook post.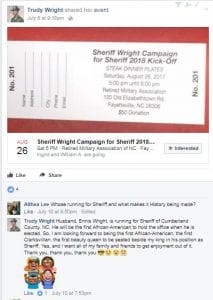 Several Cumberland Co. residents are quite alarmed at the attitude displayed by Ennis Wright's wife and are shocked at the blatant racist connotations of her comment, "He will be the first African-American to hold the office when he is elected."
A currently serving deputy sheriff who will not be named to protect his career said; "Apparently Wright's wife doesn't understand that around here we elect sheriff's based on the content of their character and not the color of their skin as taught us by Martin Luther King. Her comment is shameful and shows disrespect for our diverse community."
Ennis Wright's wife went on to comment; "I am looking forward to being the first African-American, the first Clarksvillian, the first beauty queen to be seated beside my king in his position as Sheriff."
Many members of the Cumberland Co. community are shaking their heads in disgust at the audacity of Ennis Wright's wife's delusions that she will somehow be sharing a position of authority over the community as a "queen" and that her husband will be an over-lording "king" in Cumberland Co. rather than a public servant who desires to help others. It's obvious that Trudy Wright is looking forward to wearing her husband's rank in this community despite the fact that no one is electing her.
And not just a "queen" either, but a beauty queen. "She's a sufficiently attractive woman to be sure but most assuredly not the beauty that she believes herself to be." said another Deputy Sheriff with the Sheriff's Office. The deputy went on to say, "That level of narcissism is very unattractive in a person."
There's no 'misunderstanding' or 'misconception' as her words are very straightforward and clear.
Cumberland Co. community members are openly concerned that candidate for the office of sheriff, Ennis Wright, would tolerate such racism and arrogance in his family and wonder if it is a sign of Ennis Wright's own values and mental attitude. If his family members act in such a manner then what assurances do we have that he himself does not also harbor ugly racist undertones and political narcissism in his mind and soul and believes himself to be seeking the seat to a 'kingdom' in the election?
The citizens of Cumberland Co. deserve better than this as the top law enforcement officer in the county. It seems that Cumberland Co. has a little swamp clearing of its own to do. This kind of racism and arrogance is unacceptable in Cumberland County.