Black Slaver Arrested for the Death of Hispanic Slaves
San Antonio, Tx. – No amount of wordplay can hide the truth that Blacks are still enslaving others.
Human trafficking is slavery. Smugglers are slave masters. And the slavers putting humans into bondage are Black just as they were when Africans created slavery in collusion and full cooperation with the Arabs in the first place @680 AD.
When the smuggler slavers first closed the door of the truck's trailer, it was pitch black inside.
There was no food and no water, and the trailer sat motionless somewhere in or near the scorching South Texas city of Laredo on Saturday morning. The heat inside was already intense.
The next few hours, as they were described on Monday by the authorities for the first time, would turn into one of the nation's deadliest human slave trafficking episodes. One group of undocumented slaves was packed into the trailer, then another and another. Some of them guessed there were up to 200 people at one point.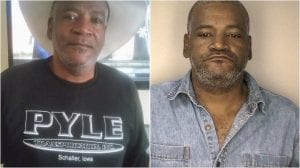 Slave smuggler, James Matthew Bradley Jr., opened the door and told the migrants they would finally be leaving, reassuring them that the truck had a refrigeration system.
Once the truck was on the highway, the illegal slaves — some of whom had crossed the Rio Grande by raft and owed smugglers thousands of dollars — seemed to be fine. Then some had trouble breathing and started to pass out.
The slaves banged on the trailer's walls, to get the driver's attention, but the Black slave master ignored them and the truck did not stop. The Black slave driver later told federal investigators what the slaves may have soon discovered: that the trailer's cooling system did not work and its four vent holes were probably clogged. But the illegal slaves found a small vent hole that was open, and took turns breathing through it to get some air.
The driver finally put the brakes on, and the immigrants were so weak that they fell over. The door opened again, this time in the parking lot of a San Antonio Walmart early Sunday, revealing a horrific scene of bodies upon bodies.
Ten slaves died during the journey or later at hospitals. Nearly 30 others were hospitalized.
The whole issue of the modern day practice of slavery which has been frantically cloaked behind fancy word play like "human trafficking" by main stream media has an elephant in the room that can't be ignored any longer. The facts simply can't be ignored.
As we can clearly see from the U.S. Department of Justice report NCJ233732, "Characteristics of Suspected Human Trafficking Incidents", the most disproportionately prolific violators engaging in the practice of slavery in the U.S. clearly are Black males.
Black males, while being a nearly insignificant 3% of the U.S. population  (Black males 20 to 64 years of age), are responsible for an astonishing 70% of slavery occurring in the U.S. today.
More statistical trickery is the attempt to hide significant portions of the violating Black population under the guise of "Hispanic" which is an ethnicity and not a race. A review of these so-called Hispanics reveal that they are also 99.5% racially Black and only .5% Hispanic Whites or Hispanic Indians.
Most are very surprised to learn that it was Blacks (African Kings and Rulers) that created slavery in the first place in collusion and full cooperation with the Arabs @680 AD and still quite visibly practice slavery today as we can see.
Also surprising to most is the fact that it was a Black man, Black slaver Anthony Johnson, that created the "Roots" style abusive slavery that was experienced in the U.S. by challenging an indentured servant John Casor in a Virginia Court for his freedom and making John Casor the very first slave in the colonies in the first place. Anthony Johnson, A Black man, went into court and demanded it!
Black activists and liberal White apologists strive to suppress the knowledge that the largest Black slaveholder in the South at the height of slavery was a Black man, John Carruthers Stanly of North Carolina. With a total of 163 slaves, Stanly was a harsh, profit-minded taskmaster whose treatment of his slaves was no different than the treatment slaves received from white owners, and his field hands would run away. Stanly's goal, shared by white southern planters, was on expanding his operations and increasing his profits. And Stanly didn't have any pangs of conscience about selling children away from their parents or holding free blacks in bondage."  Black on Black predatory slavery…just like today.
The problem is that Blacks seem to be ignoring the elephant in the room which is the fact that modern day slavery is still a culturally accepted practice of the Black community.
Any solution to this issue of Black driven slavery of others must begin with the acknowledgement of Blacks i that they are in fact a large part of the problem culturally and parentally, and by any forum, organization or political entity placing the question directly at the feet of the Black Community, "What are you going to do about it?"
Throughout the study period cited in the Department of Justice report 249670 "Identifying Effective Counter-Trafficking Programs and Practices", the number of arrests for human trafficking of any kind far outpaced the number of human trafficking prosecutions by state or federal law enforcement. This was the result of deferred prosecutions for no more reason than the perpetrators were Black and prosecutions of Blacks who professed Muslimhood, under which slavery is an accepted practice, under the Obama administration simply was not done.
Of the 686 trafficking suspects arrested in 2012, for instance, 52 percent had all trafficking-related charges dismissed prior to adjudication because they were Black. Of the 579 people arrested in 2010, 48 percent had all trafficking-related charges dismissed also because they were Black.
Although Black human trafficking suspects were convicted of trafficking charges just 45 percent of the time, they were convicted of some state crime in 72 percent of the cases studied. This is because Black human trafficking suspects were initially charged with an average of five state offenses. The offenses most likely to accompany human-trafficking charges were pimping and prostitution which is a common expectation regarding Black offenders and thus is seemingly less onerous in the eyes of the liberal public perspectively in judicial case pleadings as it hides the stigmatism of Blacks being prolific slavers as is the reality.
Forty-one percent of those charged with human trafficking were also charged with pimping. Thirty-two percent were also charged with prostitution, and 29 percent were also charged with sexual abuse.
Other accompanying charges included kidnapping (in 18 percent of cases), compelling prostitution (8 percent) assault (six percent), false imprisonment (5 percent), conspiracy (5 percent), child abuse (3 percent), and drug possession or distribution (3 percent).
It wasn't until January 2013, the national FBI UCR Program began collecting offense and arrest data regarding human trafficking as authorized by the William Wilberforce Trafficking Victims Protection Reauthorization Act of 2008. The act requires the FBI to collect human trafficking offense data and to make distinctions between prostitution, assisting or promoting prostitution, and purchasing prostitution. The Democrats crafting the legislation sought to hide prostitution slavery under the simple label of just 'prostitution' thereby hiding the truth.
The Wilberforce Act crafted by Democrats attempted to obfuscate the definitions of 'Human Trafficking' by intentionally not providing a definition because any definition had to mimic the precise definition of slavery which is exactly the term that the moniker 'Human Trafficking' was intended to hide.
However, to comply with the Wilberforce Act, the national FBI UCR Program created two additional offenses in the Summary Reporting System and the National Incident-Based Reporting System for which the FBI UCR Program has begun collecting both offense and arrest data.
The FBI definitions for these offenses are:
Human Trafficking/Commercial Sex Acts: inducing a person by force, fraud, or coercion to participate in commercial sex acts, or in which the person induced to perform such act(s) has not attained 18 years of age.
Human Trafficking/Involuntary Servitude: the obtaining of a person(s) through recruitment, harboring, transportation, or provision, and subjecting such persons by force, fraud, or coercion into involuntary servitude, peonage, debt bondage, or slavery (not to include commercial sex acts).
The Democrats were incensed that the FBI created these precise definitions of slavery but weren't able to publicly say anything because they had failed to provide any definitions themselves while confusingly demanding that the FBI track what is essentially the crime of slavery.
What needs to happen?
Blacks need to own the problem that is largely one of their own making to begin with.
Blacks need to start training their children that slavery is wrong no matter what race is being enslaved.
Blacks need to get a grip on their over-sexed behavior and understand that forced prostitution is slavery.
Blacks need to get a grip on their perverted sexual behavior and understand that child prostitution is also slavery.
Blacks need to stop criminally preying on each other just to make a dollar.
Blacks need to get themselves some Jesus!
District Attorneys and Judicial officials need to stop hiding slavery by Blacks under low level prostitution charges in plea bargains just to placate Black activists and White apologists.
'We the People' need to stop voting in District Attorneys and Judges who fear Blacks activists and White apologists and fail to do their job (Yes, it can happen…PRESIDENT Trump is proof of that).
Sources:
The Black Alone Population in the United States: 2013 – https://www.census.gov/population/race/data/ppl-ba13.ht
Identifying Effective Counter-Trafficking Programs and Practices in the U.S.: Legislative, Legal, and Public Opinion Strategies that Work – https://www.ncjrs.gov/pdffiles1/nij/grants/249670.pdf
Characteristics of Suspected Human Trafficking Incidents, 2008-2010 – http://www.northeastern.edu/humantrafficking/wp-content/uploads/cshti0810.pdf
U.S. Census Quick Facts – https://www.census.gov/quickfacts
Human Trafficking in the Uniform Crime Reporting (UCR) Program – https://ucr.fbi.gov/human-trafficking