Fayetteville, N.C. Mayoral Candidate Threatens News Site
Fayetteville, N.C. – Quancidine Gribble, 56, of the 6100 block of Louise Street issued a threat to TPTN Action News for reporting about her.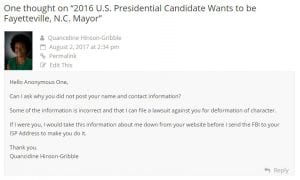 We at TPTN are not quite sure what Gribble's problem is as her questions and comments make absolutely no sense.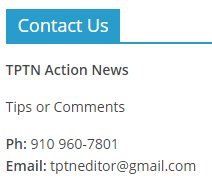 With our TPTN banner at the top of our page and our contact information clearly set out in the right hand column we are quite confused by Gribble's accusation of 'anonymous'.
Clearly we identify ourselves as TPTN Action News and just as clearly we provide an email address and telephone number. How can any candidate think themselves qualified to be Fayetteville's mayor when they can't even discern such clear and present information provided?
Gribble also makes the accusation that there was incorrect information. However Gribble fails to cite just what information she believes to be incorrect.
All the court information is absolutely correct as it was taken directly from the N.C. DOC and Cumberland County internet data records. The lawsuit information was extracted directly from online copies of the specific lawsuits.
As to the threat of her sending the Federal Bureau of Investigations to our ISP Address…well, we are certainly interested to see how she intends to accomplish that. We are certainly interested in seeing how she plans to order the FBI around, in seeing if the FBI will drop all the important cases they are working on to jump at her command, and to see if the FBI is actually capable of 'showing up' at our ISP Address to make us do anything.
We are astonished that Gribble actually believes an ISP 'address' to actually be a physical location rather than a numerical representation of an internet location that could be anywhere worldwide. We at TPTN can not confirm or deny that our ISP address is registered in North Carolina while our physical location is in the United Kingdom. However we at TPTN are not too concerned about Gribble showing up at Her Majesty's Ministry of Police to file a complaint against us.
We at TPTN also unconditionally and unequivocally deny 'deforming' Gribble's character in any manner though we certainly do concede that her character is quite "deformed" as a result of her own actions.
Gribble's incapability to select the proper wordage such as "deformation of character" and using "segway" for segue shows us that her education is seriously riddled with gaping holes.
Sadly, Gribble narrowly skirted a felony embezzlement charge in 2003 that would have prevented her from running for mayor.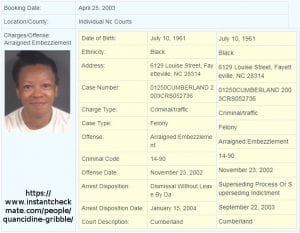 N.C.G.S. § 160A-59.  Qualifications for elective office.
All city officers elected by the people shall possess the qualifications set out in Article VI of the Constitution. In addition, when the city is divided into electoral districts for the purpose of electing members of the council, council members shall reside in the district they represent. When any elected city officer ceases to meet all of the qualifications for holding office pursuant to the Constitution, or when a council member ceases to reside in an electoral district that he was elected to represent, the office is ipso facto vacant. (1973, c. 609.)

Constitution of N.C. – Article VI [SUFFRAGE AND ELIGIBILITY TO OFFICE], Sec. 8.  Disqualifications for office.
The following persons shall be disqualified for office:
First, any person who shall deny the being of Almighty God.

Second, with respect to any office that is filled by election by the people, any person who is not qualified to vote in an election for that office.

Third, any person who has been adjudged guilty of treason or any other felony against this State or the United States, or any person who has been adjudged guilty of a felony in another state that also would be a felony if it had been committed in this State, or any person who has been adjudged guilty of corruption or malpractice in any office, or any person who has been removed by impeachment from any office, and who has not been restored to the rights of citizenship in the manner prescribed by law.
We suspect that Gribble is going to be quite busy if it is her intent to threaten every news outlet that has reported her criminal activities. Gribble's foolishness has gone viral nationally as well as locally;
http://www.fayobserver.com/news/20170802/fayetteville-mayoral-candidate-arrested-twice-in-55-days

http://www.wopular.com/mayoral-candidate-arrested-twice-last-60-days

http://www.americanthinker.com/blog/2017/08/mayoral_candidate_arrested_twice_in_last_60_days.html

http://www.houstonchronicle.com/news/crime/article/North-Carolina-mayoral-candidate-arrested-twice-11732180.php

https://www.youngcons.com/2016-democrat-presidential-candidate-arrested-twice-in-55-days-now-running-for-mayor/

http://www.wbtv.com/story/36056900/north-carolina-mayoral-candidate-arrested-twice-in-55-days

http://www.wsoctv.com/news/north-carolina/north-carolina-mayoral-candidate-arrested-twice-in-55-days/580718405

http://www.wect.com/story/36056900/north-carolina-mayoral-candidate-arrested-twice-in-55-days

http://www.wcti12.com/news/state/north-carolina-mayoral-candidate-arrested-twice-in-55-days/599077650
We caution Gribble seeing as how she appears to be somewhat challenged in the area of common sense.
Courts do not like frivolous lawsuits. In fact, some states punish people who routinely file frivolous lawsuits by adding them to a "vexatious litigator" list as well as holding them responsible for all attorney fees, including those of the other party they frivolously sued. We are fairly certain that like us, all these news outlets have the same policy of seeking exactly these punitive actions in court in such frivolous attacks on the freedom of the press and freedom of speech.