2016 U.S. Presidential Candidate Wants to be Fayetteville, N.C. Mayor
Fayetteville, N.C. –  Quancidine Hinson Gribble, who cast her bid for the 2016 U.S. Presidency, has now changed her aspirations to becoming the Mayor of Fayetteville, N.C.
Gribble ran for President, and had a gofundme account set up to get that going.  In her first month she raised exactly 0 dollars of her $100 million goal.  Oh, and she is dead set in her belief that Kay Hagan was running a criminal conspiracy to stop her from being able to get survivor's benefits.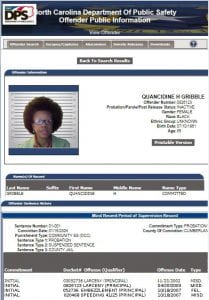 Gribble even made the list of "The Craziest People Running For President in 2016" by the website 'America Fun Fact of the Day'.
But not only was Gribble a presidential candidate, she is also a convicted criminal.
And apparently Gribble is currently facing yet another larceny charge that she was recently arrested for by the Fayetteville Police Department and has her next court appearance on September 18th, 2017.

It is understandable that the election of anyone with this number of larceny and embezzlement charges would certainly be problematic.
Also an issue is community stability. Gribble seems to have issues with staying in one place for very long. A simple internet search reflects that Gribble has lived in  Quincy, FL,  Memphis, TN (4 different zip codes), Alexandria, VA, Jonesboro, GA, and Hernando, MS in addition to Fayetteville, NC. Anyone with a suspicious nature would be driven to wonder if Gribble was running from something?
Gribble claims that Fayetteville, N.C. is her home but the truth is that she was born in  Badkreuznach, West Germany.
And then there's the question of her violent nature as evidenced by her arrest and conviction in Mississippi. Gribble appealed the conviction and lost the appeal. The facts of the case tells us all we need to know.
FACTS:
On December 19, 1997, Robert Gribble and Quancidine Gribble got into an altercation. Quancidine came home from work to find all of her belongings packed into her vehicle. Robert testified that he wanted Quancidine to move out because she had used some of his credit cards without his permission or knowledge and he thought she was having an affair. Quancidine did not want to leave at that time and a fight ensued. Quancidine hit Robert over the head and about the chest and arm with a statue.   Quancidine testified that Robert was in a drunken rage and had come at her with a shotgun and hit her in the back with a large vase, and that she defended herself by taking the shotgun away from Robert and beating him off of her with a statue. Robert, however, testified that he never hit her or attempted to hit her. They finally stopped fighting, because both of them were too tired to continue, and eventually went to sleep. The next afternoon Quancidine took Robert to the emergency room. Robert claims that he convinced Quancidine to take him to the hospital by promising her he would tell the emergency room staff that he had injured himself while working on a lawn mower. Quancidine testified that Robert came up with the lawn mower story and promised her to not tell the police. Robert received numerous stitches in his head from being hit with the statue, was severely bruised about the chest and right arm, and had a torn rotator cup.
And lastly Gribble has a series of frivolous law suits. Gribble has sued, among others,  United States Office of Personnel Management, Katherine Archeleta, Donna Seymour, Army Community Services, Survivors Outreach Services, Charlotte Watson, Amy Melendez, Joanie L. Hammons, David E. McDermott, Jim Szatkowski, Cynthia Virrueta, John W. Ellerbe, Jim Klemowski, Ethel Knock, Jeffrey M. Sanborn and Kay Hagan as well as Claude Martin Purvis.
The court's decision read as follows:
ORDER, LOUISE W. FLANAGAN, District Judge. This matter is before the court on the memorandum and recommendation ("M&R") of Magistrate Judge James E. Gates, pursuant to 28 U.S.C. § 636(b)(1)(C) and Fed. R. Civ. P. 72(b), wherein it is recommended that the court dismiss plaintiff's complaint on frivolity review under 28 U.S.C. § 1915(e)(2)(B). Plaintiff timely objected to the M&R. (DE 14). In this posture, the matter is ripe for ruling. For the reasons stated herein, the court adopts the M&R as its own and dismisses the complaint as frivolous.
Gribble's Facebook page also reflects her radical activist nature and her intense hate for all law enforcement and President Donald Trump.
Expecting the citizens of Fayetteville to place their faith and trust in one with such a record is like…, well like, expecting the citizens of the county to elect you King.