Fayetteville Mayoral Candidate Mitch Colvin's Business Style an Issue
Fayetteville, N.C. – Mitch Colvin's business style leaves a lot to be desired. It's certainly not the business style that should be elected into the mayor's office.
Fayetteville Observer's Tim White asked both candidates if they would stick to the issues and not do any mudslinging. But "who" decides the issues? And who decides just what is mudslinging? It's certainly not Tim White, a glorified paper boy. There's certainly no credentialed authority ascribed to Tim White to make such decisions on behalf of all Fayetteville voters. And what arrogance should he think so!
The only real authority on the matter of just what constitutes an "issue" are the voters themselves. And for them to do that they have to be in possession of all the information, not just what the Fayetteville Observer and Mitch Colvin want the voters to be carefully spoon fed.
Mitch Colvin's business practices are certainly an issue because they give the Fayetteville voters hard evidence as to how Mitch Colvin is likely to act in public office.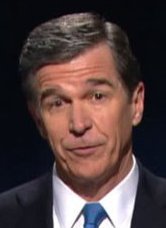 The Democrat N.C. Governor is coming to Fayetteville October 25th to meet with Colvin. Many voters in Fayetteville are wondering if Roy Cooper is coming to Fayetteville to pardon Mitch Colvin for all his crimes in addition to endorsing a convicted criminal.
Now just let that sink in for a few minutes. A Democrat Governor who lets perverted men into little girl's rooms all across the state endorsing a convicted criminal who owns a business that defrauds customers and gets sued by numerous businesses who just want the money they're owed.
In October 1994, Ernestine Colvin, co-owner of Colvin Funeral Home with Henry "Mitch" Colvin, was arrested for the felony of "Obtain Property by False Pretense" in that there was probable cause to believe that she sold a customer a very expensive casket in which to bury their loved one. But after the graveside service, and after the mourners had left, Colvin Funeral Home would transfer the deceased from the expensive casket and place the deceased in a very cheap casket. Colvin Funeral Home would then complete the burial keeping the expensive casket for themselves to be sold to another unsuspecting customer.
According to court records Ernestine Colvin was charged an additional two more times for the felonies of "Obtaining Property by False Pretense".
One of the several Fayetteville Police Detectives who were assigned cases involving the Colvin Funeral Home said, "(Name Restricted) and I were present during the exhumation, noted the discrepancies in what [casket] the lady was buried in versus what [casket] the husband was charged for. I'm thinking the husband and someone at Colvin [Funeral Home] were cousins."
The complainant in the case was a family member of the owners of Colvin Funeral Home, named James Colvin, according to court records. If Mitch Colvin and Colvin Funeral Home would do this to their very own family one can hardly imagine anything that Mitch Colvin wouldn't do to you, the voter, for his own benefit and to further his own personal agenda.
Another Fayetteville Police Detective assigned to one of the cases said, "[Mitch] Colvin's mother is the one who was charged. She lost her license to operate the funeral home and [Mitch] Colvin took over the business using his license. However, the mother still ran it in the background. She took a plea bargain, paid a fine, suspended sentence, court costs. Never went to jail. [Mitch] Colvin knew what she was doing, but not enough evidence to charge him. No longer on his Christmas card list."
There can be no doubt that politically correct "Black Privilege" was exercised with regard to Colvin in the courts by the district attorney's office.
A more in depth look at the business practices of the Colvin Funeral Home owned by mayoral candidate Mitch Colvin revealed that Colvin Funeral Home has been involved in numerous lawsuits with:
| | | | |
| --- | --- | --- | --- |
| Opposing Party | File # | Opposing Party | File # |
| Cumberland County | 88M1009 | Martha G. Colvin Estate | 94CVS1152 |
| Speediprint Inc | 88CVM5464 | Cumberland County | 95CVD4039 |
| Kaeser & Blair | 88CVD5666 | Funeral Financial System | 96CVD8838 |
| Coast Federal Supply Inc | 90CVM5145 | US Fidelity | 97M13 |
| Hank Palmer | 91CVM10761 | Cumberland County | 98CVD5109 |
| Sumter Casket | 91M1469 | Williford High & Co | 00CVS4996 |
| Cumberland County | 91M1814 | Continental Casket Inc | 01CVD5994 |
| George Decker | 91CVD896 | Hurst Annaho Supply Co | 04CVM3207 |
| Hank Palmer and Assoc Inc | 91CVM10761 | State of N.C. | 10M2040 – Judgement $55,706.52 |
| Judy Graham | 92CVM6818 | State of N.C.  | 13M1302 – Judgement $19,541.23 |
| Leon Wright | 92CVM6818 | State of N.C. | 14M51 – Judgement $585.00 |
| American Muffler Shop | 92CVM1278 |   | |
How telling that the Colvin Funeral Home owned by mayoral Candidate Mitch Colvin hasn't gone more than five years without being embroiled in a lawsuit for failure to pay a just debt to either the state or a private entity.
Clearly anyone doing business with Mitch Colvin and Colvin Funeral Home had better make "cash only" transactions with them and have the total amount of money in hand before releasing the merchandise to them. And it wouldn't be a bad idea to detail a family member to stand watch over the entire burial process, watching until the last shovel full of earth is patted down, to insure that the family is getting their money's worth too.
Does any of this look like the proper qualifications for the position of the Mayor of Fayetteville?
Are these deceitful business practices what the Fayetteville voters want to introduce into Fayetteville's government?
Does Fayetteville really need to be exposed to the liabilities of such deceit and litigiousness that mayoral candidate Mitch Colvin would possibly (probably?) bring to the table? Criminal charges and lawsuits?
Mayoral candidate Mitch Colvin is fond of saying that it is his past that has made him who he is today.
Yes it is, and that's what we are afraid of.
You only have one vote. Make sure it's a common sense vote.
Sources:
http://www.fayobserver.com/9edd44a7-b7cb-5dee-aa80-56ebf95e856c.html