Fayetteville Mayoral Candidate deViere Associate of Alleged Pedophile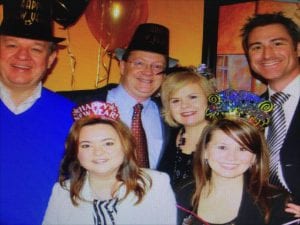 Fayetteville, N.C. – In a stunning discovery photographic proof has been produced of Fayetteville mayoral candidate Kirk deViere's willing and apparently quite happy association with alleged pedophile Mike Lallier.
Lallier, former chairman of the Fayetteville Public Works Commission, is accused of molesting a young boy over the Labor Day weekend at Darlington Raceway, where he and others had gathered for a NASCAR race. Lallier, co-owner of Reed-Lallier Chevrolet, is charged with third-degree criminal sexual conduct, a felony punishable in South Carolina by up to 15 years in prison if convicted.
Now no one is saying that deViere is a pedophile, and no one is saying that deViere is not a pedophile.
We just don't know.
What we do know is that deViere's obvious eagerness to crowd up close and personal to an alleged pedophile for a photo with a grin from ear to ear is quite questionable.
Many things about deViere appear to be questionable when one takes a close look at deViere as any responsible voter should considering he wants to be Fayetteville's mayor. Questionable associations like his association with Anthony Chavonne, an ex-mayor whose tenure as mayor was littered with strife, corruption and malfeasance. 
Another emerging common theme here is that deViere seem to like to party…a lot. One wonders if deViere sets aside any time for doing any actual work. Like running a city?
And speaking of questionable; who dresses like this?
A dress coat loud enough to be an emergency warning siren for a metropolitan area matched with a tweed wool Fedora? How philistine! In circles of true class one would instantly be deemed a pariah for dressing like this.
Kirk deViere, a man who takes great pleasure in associating with alleged pedophiles, corrupt politicians, appears to be a party animal and dresses funny.
You only get to vote for one so choose wisely citizens of Fayetteville.