Fayetteville Mayoral Candidate Mitch Colvin Has Troubling Criminal Record
Fayetteville, N.C. – UPDATE: Fayetteville Elects Criminal Thug as Mayor
Warnings come from all kinds of places, but the most reliable of warnings for those of us with a moral compass who demand respectability from those we choose to lead us come from the Bible.
"I meant that you are not to associate with anyone who claims to be a believer yet indulges in sexual sin, or is greedy, or worships idols, or is abusive, or is a drunkard, or cheats people. Don't even eat with such people." [NLT] 1 Corinthians 5:11
One of the most critical civic duties that we have as Americans is our duty to vote intelligently and responsibility for our governmental leaders and that includes even those at the municipal level. In fact, those at the municipal level are the most important of all as they directly influence your life in many ways.
From October 19th through November 4th, 2017 [early voting] and on November 6, 2017 [election day] you will be voting for the leader of the City of Fayetteville N.C.
While performing a background investigation of both candidates for mayor TPTN discovered that Henry Mitchell Colvin Jr., aka: H. Mitchell Colvin, aka: Mitch Colvin has a criminal history. A very serious criminal history.
Not only is this important in the biblical sense it is also extremely civically important. Mitch Colvin's criminal record reflects several arrests and numerous citations for;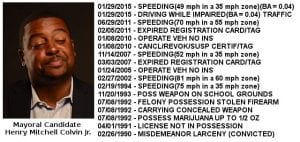 Now there are those who try and minimize or otherwise be dismissive of such a shockingly lengthy criminal record by platitudes like "Oh, it was such a long time ago" or " Oh, it's the past that makes me what I am today."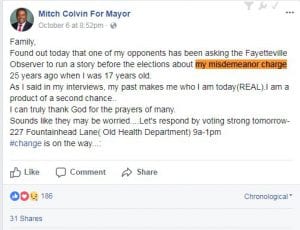 The bible gives us the answer to both platitudes;
Can an Ethiopian change his skin or a leopard its spots? Neither can you do good who are accustomed to doing evil. [NIV] Jeremiah 13:23
With arrests as recently as January 29, 2015, what Mitch Colvin is today remains highly questionable. Even as a supposedly respectable Fayetteville City Council member Mitch Colvin couldn't stay under police radar or out of police custody.
Clearly Mitch Colvin enjoyed his 'Black Privilege' and got special deference in the courts based on the color of his skin as evidenced by the numerous district attorney dismissals in the record. However, that does not change the fact that he did have a felony arrest for possession of a stolen firearm and convictions for misdemeanor larceny, illegal drug possession and illegally carrying a gun.
The definition of larceny is the theft of property belonging to another and that makes Mitch Colvin a criminally convicted thief.
With Mitch Colvin's additional convictions for illegal drug possession and carrying a gun illegally that would make Mitch Colvin a criminally convicted weed possessing, gun toting thief.
Also telling is Mitch Colvin's attempt to cast a veil of dismissiveness and faux acceptability over his criminal record by intentionally omitting his felony arrest casting it as a 'misdemeanor charge' on his Facebook wall. And not just 'a charge' as Mitch Colvin tries to suggest, but several charges and convictions.
Mayoral candidate Mitch Colvin told the truth up to a point, but a lie of omission is still a lie.
As reported by (WTVD) Nicole Carr, "Mitch Colvin, 41, was arrested Wednesday evening on suspicion of driving while impaired and speeding. The incident happened along the 900 block of Ramsey Street just after 11 p.m., according to a Fayetteville Police report. An arrest report on the department's website noted Colvin taken into custody for DWI. When Colvin arrived to the magistrate's office, he took a breathalyzer test, and blew under the legal limit, which provided no probable cause for a DWI arrest."
Now even though Mitch Colvin didn't blow high enough for a DWI arrest one wonders what an allegedly respectable Fayetteville City Council member is doing out at 11:30 pm speeding with a odor of alcohol on his breath strong enough for a law enforcement officer to be concerned enough to arrest him and have him take a breathalyzer test?
This coupled with numerous charges regarding speeding and his alleged inability to keep vehicle insurance, or even a driver's license gives great cause for concern to Fayetteville voters.
Mitch Colvin's numerous charges for speeding gives rise to the question of just how much value he really places on the lives of the citizens of Fayetteville.
And do the numerous registration/license plate/insurance/driver's license charges mean that Mitch Colvin has a complete disregard for our state's laws, and the rule of law?
The truth is that Mayoral candidate Mitch Colvin can't seem to go ten years, nearly even five years, without getting into some kind of trouble with the law. The Fayetteville voter must ask themselves just what kind of liability does this poses for the City of Fayetteville should Mitch Colvin obtain the office of mayor with this kind of record and weakness for getting into legal trouble?
Yes, it certainly does call into question what Mitch Colvin has become, or is, today.
And apparently the apple didn't fall very far from the tree either. It was discovered in an official inquiry regarding the questionable actions of Judge George Z. Stuhl documentation of charges against Mitch Colvin's father, Henry Mitchell Colvin Sr.
In relevant part;
In Re Stuhl;
233 S.E.2d 562 (1977); 292 N.C. 379
In re Inquiry Concerning a Judge No. 35, George Z. STUHL. ORDER OF CENSURE
No. 44., Supreme Court of North Carolina. April 14, 1977.
*563 (Judicial Standards Commission) Millard R. Rich, Jr., Deputy Atty. Gen., Raleigh, for appellant.
L. Sneed High, Fayetteville, for appellee.
"(c) On or about 3 December 1975 Henry Mitchell Colvin was charged by Highway Patrolman Mike Robertson with willfully and unlawfully driving a motor vehicle on a public highway at a speed of 65 miles per hour in a 55 mile-per-hour zone and issued Citation No. 2039560 to Colvin with a notation to appear in Cumberland County District Court No. 5 at 9 a. m. on 15 January 1976. On or about 16 December 1975 respondent caused to be entered a check mark in the "Guilty Plea" block on said citation and a check mark in the "Guilty Verdict" block on said citation. At the time of those entries the case was not on the court calendar for trial. Assistant District Attorney Willie A. Swann, who was prosecuting the docket in District Court No. 5 in December 1975, did not consent to or have knowledge of the entries. Said entries were made by Clerk of Court Cashier Sue Faircloth at the direction of respondent and Faircloth wrote out a receipt for the payment of said costs in said case at the direction of the respondent. While an attorney and before becoming a district court judge, respondent had represented Henry Colvin in the district courts of Cumberland County on charges of issuing worthless checks and on charges involving traffic violations."
Click here to see Henry Mitchell Colvin Sr. arrest record.
It is the past that makes me what I am today?
A father who had an arrest record for criminal activities, Mitch Colvin himself has a record of criminal activities. And sadly it doesn't stop there either.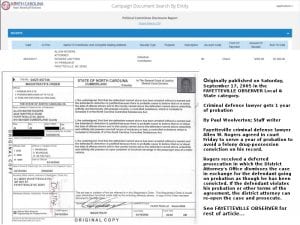 Proof positive has been obtained from the North Carolina Election Board that mayoral candidate Mitch Colvin still consorts with others who have a criminal bent in this year of our Lord 2017.
Fayetteville Mayoral candidate Mitch Colvin reported himself that he has received to date at least $1,000 for his campaign from Allan Rogers, an attorney who was arrested for FELONY drug possession.
It was clearly validated and reported in the Fayetteville Observer by Staff Writer Paul Woolverton; "Rogers received a deferred prosecution in which the District Attorney's Office dismisses the case in exchange for the defendant going on probation as though he has been convicted."
We will leave it to the reader to make their own determination as to what this wordplay really means.
What does it say about a man's morality and ethical compass when he eagerly, and greedily, accepts money from even illegal drug possessing felony arrestees to fund his political campaign? Can you really be comfortable voting such a person into a position of great responsibility and give them governmental control over your life?
And would not a respectable and ethical political candidate give this dirty filthy money back so as to protect his reputation?
As if that wasn't enough, on April 29, 2014, Fayetteville Observer Staff Writer Amanda Dolasinski wrote regarding Mitch Colvin's business dealings;
"In the first complaint, regulators found that the funeral home

violated state law

by cremating human remains without an authorization form signed by the appropriate people. One person – the daughter of the deceased – signed the form. But the state board said at least one other person – the son of the deceased – also should have signed it." [Malfeasance?]
"In the second complaint, regulators said Colvin

violated state law

by cremating human remains without an authorization form signed by the appropriate person. In that case, the brother of the deceased signed off on the service, not the daughter of the deceased, which violates the state's protocol, according to the consent order." [Malfeasance?]

The third complaint that was lodged regarded the funeral service of a young child who died in August. In that complaint, regulators said Colvin made a negligent misrepresentation in the practice of funeral service. Although there is no law requiring funeral homes to offer lower prices for child funeral services, state regulators said Colvin told the family that discounts are never offered, which is misleading to the consumer. Regulators also found that the funeral home

overcharged the family

. [Greed?]
Colvin was ordered to pay a $1,000 civil penalty and issue a $138 refund related to an extra mileage charge.
But there's more!
In a 2017 Consent Order  Mayoral candidate Mitch Colvin and his business, Colvin Funeral Home & Crematory, has been placed on probation for two years. [See rest of consent order at end of article]
More Malfeasance by Mitch Colvin?

The preneed funeral establishment permit, and all ancillary preneed sales licenses, of Colvin FH are hereby placed on probation for a period of two (2) years, to begin on the date this Consent Order is fully Throughout the duration of the probationary period, Respondents must respond to any Board correspondence within seven (7) business days of receipt. ~ The Office of Administrative Hearings; County of Cumberland
There's no pawning off the blame for these state law violations committed out of greed and the overcharging cheating of others by Mitch Colvin because it is his business and he alone is responsible. Mitch Colvin is responsible for who he hires and for making sure he does his due diligence to monitor and manage his business personnel appropriately. It is mayoral candidate Mitch Colvin who failed.
And neither does the optics of this translate well for the citizens of Fayetteville should Mitch Colvin be elected mayor. If Mitch Colvin can't run his own business in a lawful and ethical manner without abusing innocent Fayetteville citizens who are grievously suffering the loss of loved ones, then how can the voters expect him to handle running something far more critical to them like the Mayor's Office of a large city like Fayetteville where the lives of hundreds of thousands are at risk?
Mud Slinging: "To disparage someone,especially to the detriment of their reputation. Insult or discredit someone"
There will be racist activist zealots out there who will rage, threaten and make childish exclamations that this is somehow an attack against the "black" man but that is simply not true. Some will try to classify this article as "mud slinging". That would also not be true because the only 'mud' staining Mitch Colvin is that of his own creation.
When Mitch Colvin committed these crimes and incurred these convictions he insulted, disparaged and brought about detriment and discredit to his reputation himself.
TPTN didn't do it. The Fayetteville voter didn't do it. Mayoral candidate the Honorable Mayor Nat Robertson didn't do it.
Mayoral candidate Mitch Colvin has only himself to blame.
No one at TPTN, or anyone else for that matter, 'made' Mitch Colvin commit any of these actions that got him arrested, fined, convicted or otherwise judicially noticed. That's all on him. All we do is report the facts. And the facts do matter. The content of Mitch Colvin's character does matter.
"I have a dream that my four little children will one day live in a nation where they will not be judged by the color of their skin, but by the content of their character." ~Martin Luther King Jr.
It's all about decision making. In Mitch Colvin's case, a documented history of bad decision making. Mitch Colvin has made bad decisions in his youth. Mitch Colvin has made bad decisions in his business dealings. Mitch Colvin has made bad decisions while holding the position of City Council member.
Now Mitch Colvin wants to be your mayor. Each and every voter has to ask themselves;
"Is it really is in my best interest to allow a convicted thief who displays such consistently bad decision making which would only serve to create strife, corruption and malfeasance into my city government ?"
Should you even vote for Mitch Colvin to be your mayor, much less eat with him at your dinner table?
Isn't the idea to "Drain the Swamp"?
Actions have consequences. And an undeniable consequence of Mitch Colvin's criminal actions is that Fayetteville voters have a right to know what these criminal actions were and to use the information in their voting decisions.
Now Mitch Colvin may 'ask', not demand, but ask for forgiveness from the Fayetteville voter but the Fayetteville voter is not in any way required to allow that forgiveness they would surely give to affect their decision on whether or not to vote for him.
A lot of people don't want to forgive, because they think if they forgive people, then they've got to trust the offenders again. No. That's a whole different issue! Forgiving a sinner is one thing, but voting for them is another thing altogether and neither are the two intertwined. It is perfectly permissible to forgive the sinner and still not vote for them based on their past actions. In the real world past actions are indicative of future performance.
Only a manipulator and user of others would insist that 'forgiveness' requires you to throw away all common sense and instantly trust them enough to vote for them. Forgiveness does not mean the instant restoration of trust. Forgiveness is instant. Trust must be rebuilt over time. Forgiveness is based on grace. Trust is built on works. You earn trust. You don't earn forgiveness.
Again: Forgiving a person does not mean you have to trust them and vote for them. It means they have to earn the trust, before they earn your vote.
As we stated earlier, TPTN conducted research of both mayoral candidates.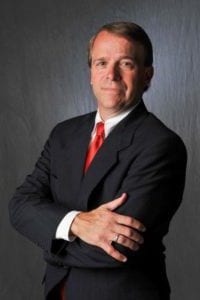 No criminal record was found regarding mayoral candidate Nat Robertson.
In fact TPTN could find no Better Business Bureau complaint, any lawsuits involving Nat Robertson or any complaints against Nat Robertson of any kind.
This kind of stellar achievement speaks volumes about the impeccable character of mayoral candidate and current sitting Fayetteville mayor the Honorable Mayor Nat Robertson.
You, the American voter, are the immutable foundation of the electoral process and as such you have a right to all the relevant information available so that you may make an educated decision as to just who would be the best mayor for the city of Fayetteville.
Any news outlet such as television, radio, or Fayetteville newspaper/news website who fails to provide you all the information is an unethical organization indeed and should be heartily reprimanded through complaints to that organization. You should demand to know what gives them the right to manipulate you by restricting and keeping important relevant information from you.
TPTN will never do that.
Sources:
https://law.justia.com/cases/north-carolina/supreme-court/1977/44-0-2.html
http://cf.ncsbe.gov/CFOrgLkup/DocumentGeneralResult/?SID=162-26FE91-C-001&OGID=34860
http://cf.ncsbe.gov/CFOrgLkup/ReportDetail/?RID=149869&TP=REC (Allen Rogers at bottom)
http://www.fayobserver.com/98c8a638-bdb7-580f-92b4-151e8b99ff76.html
http://www.fayobserver.com/article/20140429/News/304299718
http://abc11.com/news/clerical-mistakes-in-councilmans-arrest/496331/
https://www.bbb.org/raleigh-durham
CHARGES: [Links to the N.C. Court System Criminal Records]