Fayetteville N.C. Elects Criminal Thug as Mayor
Fayetteville, N.C. – The city of Fayetteville joined the list of highly infamous cities like Compton, Ca. or Detroit, Mi. by electing a confirmed criminal thug to lead its city council.
Do not be surprised if Fayetteville soon becomes ground zero for news reports of Hobbs Act, mail fraud, program bribery, and RICO Act investigations due to the results of this election.
Mitch Colvin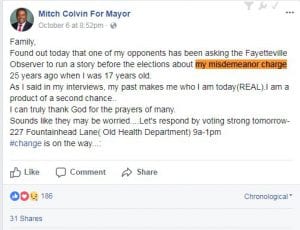 Mitch Colvin at first tried to lie and state that his crimes consisted of only one little minor misdemeanor that was hardly worth mentioning. And he tried to insinuate that since it happened 25 years ago that it wasn't relevant to his character and demeanor.
It turned out that it was actually three misdemeanor convictions. Illegal possession of drugs, illegal possession of a gun and for being a thief, in addition to several felony arrests on top of that that were dismissed due to the exercise of Black privilege in the DA's office.
Mitch Colvin became so desperate to win that he even stooped to locating and dragging his ex-wife, the very woman he had abused and placed in fear of her life and the lives of their children, back to Fayetteville to make a video in an attempt to rehabilitate his reputation. What it really did was portray Mitch Colvin as an emasculated "Mommy they're picking on me!" whining man-child. This appealed to the liberal snowflakes in the Fayetteville area.
Mitch Colvin's unethical business practices are a clue as to how he plans to run the mayor's office. It won't be pretty considering that his business was recently placed on probation by the State of N.C. for violations of state law and then the November 2nd revelation that Mitch Colvin doesn't pay his bills and was $8,005.00 in arrears on an office rental.
Ernestine Colvin, co-owner of Colvin Funeral Home with Henry "Mitch" Colvin, was arrested for the felony of "Obtain Property by False Pretense" in that there was probable cause to believe that she sold a customer a very expensive casket in which to bury their loved one. But after the graveside service, and after the mourners had left, Colvin Funeral Home would transfer the deceased from the expensive casket and place the deceased in a very cheap casket. Colvin Funeral Home would then complete the burial keeping the expensive casket for themselves to be sold to another unsuspecting customer.
To this day there are those who used Colvin Funeral Home that are still wondering if their loved ones were actually buried in the expensive casket that they purchased, or were buried in a cheap box they were transferred to after everyone had left, an act for which a Colvin Funeral Home owner, Mitch Colvin's mother, was found to have committed and found guilty of larceny charges for in court.
In light of Mitch Colvin's obvious recent financial difficulties that seem to grow worse on a daily basis it might behoove the Fayetteville Police Department to open a few graves and make sure that no fraud is being committed against Mitch Colvin's customers. If you think that you have been defrauded by Mitch Colvin you should contact the Fayetteville Police Department and report it.
Predictions
In addition to being the laughing stock of North Carolina, Fayetteville will also be now viewed with a distrustful wary eye. After all, who want's to willingly deal or associate with a city who elects a convicted illegal drug possessing, illegal gun toting thief as their mayor? Certainly any other reputable politicians at other local or state levels are going to be loathe to deal with Mitch Colvin. Don't be surprised when Fayetteville returns to being that ignored hot mess of a city again.
Crime will rise to unprecedented levels. Mitch Colvin has no love for law enforcement in light of the fact that his mother, father and he himself has had several brushes with law enforcement. You can be sure that Mitch Colvin will work hard to restrict law enforcement in every way possible.
Many good law enforcement officers will leave Fayetteville for other cities who have leaders with decency and a moral compass. You can expect the Fayetteville Police Department's employee retention to take a nosedive and the ability to attract qualified law enforcement trainees to become non-existent. Do not be surprised to see The Fayetteville Police Department reach 60 to 100 authorized law enforcement positions unfilled monthly. It's happened before.
A disproportionate number of race-based initiative, programs or projects. You can expect that your tax dollars will be hijacked to benefit one particular race instead of going to benefit Fayetteville citizens as a whole. Of course they will all be couched in a deeply emotional argument to keep you from commenting on the selectiveness of recipients to benefit.
City manager Doug Hewett and Chief of Police Gina Hawkins should go ahead and start updating their resumes' because any time Fayetteville is under liberal control city managers and police chiefs don't last long.
John Smith – City Manager – TERMINATED.

Roger Stancil – City Manager – TERMINATED.

Ron Hansen – Chief of Police – TERMINATED.

Dale Iman – City Manager – TERMINATED.

Tom Bergamine – Chief of Police – left to avoid TERMINATION.
Be prepared for a deluge of anti-police BLM, NAACP, Black activism that will bring another bout of turmoil and strife to Fayetteville yet again. Nothing done will be good enough. No official review or investigation of the police department will be accepted.
Businesses and people will move out of Fayetteville to communities like Hope Mills and Eastover who don't entertain all the liberal nonsense. All the premium businesses and residents with drive and determination will leave and the only thing that will be left in Fayetteville will be the takers, the leaches. The rot will be the only thing left. Hope Mills and Eastover will become the shining diamonds amidst the shards of coal and ash.
Apparently Fayetteville needs to experience their own Obamaesque era before they wise up and understand just how damaging liberal ideology can be.
Don't expect those of us who are conservatives to whine and cry about it though. Self-reliance is our hallmark and moving to better our existence doesn't bother us. We are quite adept at taking care of ourselves and will just simply pop the popcorn, relax in our recliners and watch the show from our new location. It promises to the best reality show ever.
We'll just come in and pick up the pieces and rebuild the city better than ever after all the liberals have eaten each other because no conservatives remain to leach off. Conservatives are quite adept at gentrification.
Enjoy the show!