Fayetteville Observer Posts Picture of Cat in KKK Garb
Fayetteville, N.C. – Fayetteville's local newspaper, The Fayetteville Observer, committed one of the most vilest acts possible.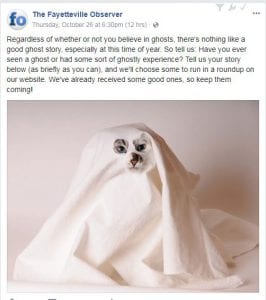 The Fayetteville Observer posted a picture of a cat garbed in a Ku Klux Klan white sheet on one of its social media posts.
No one finds this funny. You shouldn't find this funny. And the Fayetteville Observer damn well shouldn't find this funny, or cute, either.
Citizens of Fayetteville are demanding to know just who at the Fayetteville Observer approved this vile representation of one of the most reviled groups in America?
And how can it be an "accident" or a "mistake" when we all know that each and every word, photograph and even ideological example is validated by the Fayetteville Observer by assistant editors, the head editor, attorneys and then the publisher before being posted or sent to print.
No, this was no accident.
Everyone should take the time to send complaints to Fayetteville Observer owners, GateHouse Media, about their vile racist material, liberally slanted reporting, and unethical comment deletion or filtering known to the people who are really in charge.
GateHouse Media actually listens! They are concerned about the Fayetteville Observer and their actions and want to know more.
Feel free to write to them at;
Kirk A. Davis, CEO
GateHouse Media LLC
198 Sully's Trail, Third Floor
Corporate Crossings Off. Park
Pittsford, New York 14534
Laurence Tarica
Board of Directors
GateHouse Media, LLC
1345 Avenue of the Americas
New York, New York 10105
Wesley Robert Edens
Board of Directors
GateHouse Media, LLC
1345 Avenue of the Americas
New York, New York 10105
Kevin M. Sheehan
Board of Directors
GateHouse Media, LLC
6650 South El Camino Road
Las Vegas, Nevada 89118
Paul Ameden
Sr. Vice President
Chief Information Officer
GateHouse Media, LLC
198 Sully's Trail, Third Floor
Corporate Crossings Off. Park
Pittsford, New York 14534
 Melinda A. Janik
Chief Financial Officer
GateHouse Media, LLC
198 Sully's Trail, Third Floor
Corporate Crossings Off. Park
Pittsford, New York 14534
 Peter Newton
Chief Revenue Officer
GateHouse Media, LLC
198 Sully's Trail, Third Floor
Corporate Crossings Off. Park
Pittsford, New York 14534