N.C. Cumberland Co. Sheriff Ennis W. Wright a Racist? You Decide!
Cumberland Co. N.C. – Cumberland Co. N.C. Sheriff Ennis W. Wright made a bold statement in the local newspaper, the Fayetteville Observer, that;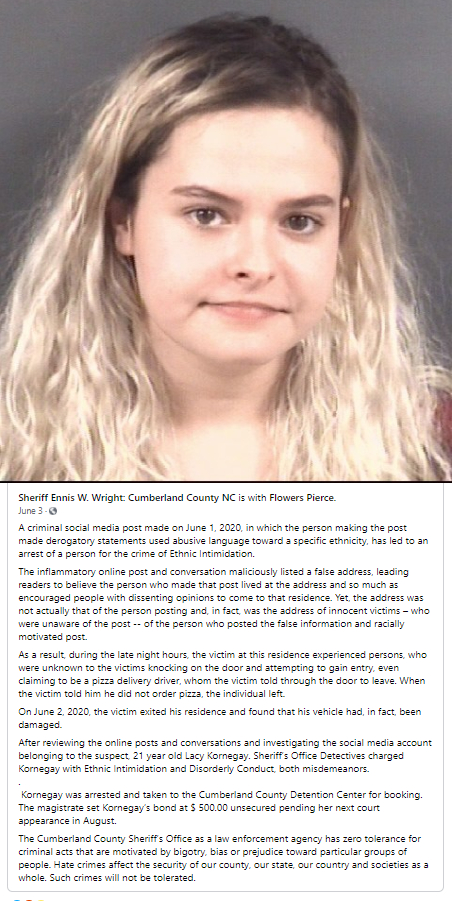 "The Cumberland County Sheriff's Office as a law enforcement agency has zero tolerance for criminal acts that are motivated by bigotry, bias or prejudice toward particular groups of people," the Sheriff's Office said in the post on Facebook. "Hate crimes affect the security of our county, our state, our country, and societies as a whole. Such crimes will not be tolerated."
Unless you're another race other than Black, a Republican or Independent, or you believe in God, Law and Order, the 2nd Amendment, and the equitable application of said law and order to all without regard to their race, color, or national origin, that is.
Apparently Sheriff Ennis W. Wright's words are only for those who espouse the Democrat ideology and who share a decidedly darker skin color like his. Could it be that is what he meant when he cited "bias or prejudice toward particular groups of people"?
That Sheriff Ennis W. Wright only enforces those laws if the "particular groups of people" are Black Democrats? That the rest of us can just get by the best we can without the Cumberland County Sheriff's services?
On June 3rd, 2020, Sheriff Ennis W. Wright made a point to blare it far and wide how "he" (read; his detectives actually) had a 21 year old White female arrested for ethnic intimidation and disorderly conduct for making racially and ethnically negative comments in social media and giving her address as that of another completely uninvolved person.
However;
Sheriff Ennis W. Wright suddenly couldn't be bothered, or even found when faced with proof positive of other such similar crimes being committed by Black perpetrators against a light skinned person of mixed race.
TPTN Action News was contacted by retired police Sgt. Jerry Schrecker who also experienced, and is a victim of, negative ethnic intimidation and outright threats of serious injury and/or death as well as the doxing of his personal information during the same period of time for simply reposting George Floyd's criminal record which was legitimate public information that people have a right to know.
Schrecker received a multitude of Facebook comments rife with death threats, racial and ethnic intimidation that he documented, rendered a formal statement of complaint for, and reported to Sheriff Ennis W. Wright about, as evidenced by the Cumberland County Sheriff's Office online incident report look-up web page (CCSO Inc. # 202003936);

And a United States Post Office Certified Return Receipt validating that Sheriff Ennis W. Wright received Schrecker's formal statement and complaint.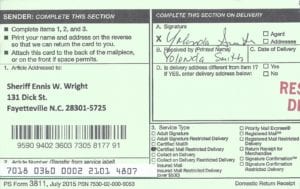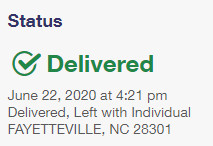 The Threats
And these threats and intimidation that Schrecker received via Facebook Messages are some of the worst that one can receive and certainly deserving of a proper investigation and prosecution by Sheriff Ennis W. Wright;
"F**k U C**cker ! No Justice No Peace I'll Put My Kneee On The Back Of Yo Daughter Head Bi*ch"

"u soft a** bi*ch a** pig ni**a I will kill u and spit on yo grave"

"Shut up before your whole family end up missing"

"U a bi*ch a** cop I can't wait 4 someone 2 beat ur a** cuz u gonna know how it feels smd I'm gonna f**k ur wifey bi*ch"

"Your f**king dead buddy, straight up"

"Wherever i see you around whether your with your family, wife, kids, etc im shooting your racist a** you f**king piece of shit. And since you wanna be racist i might shoot your wife and kids too to get rid of more racist people while im at it. You non common sense white dirty f**k really need to get your mind right before i see you. This is a small world remember i'll see you around MY NI**A"

"Sleep with one eye open"

"Simple minded bI*CH……I HOPE SOMEONE COMES AFTER YOUR A**. Actually……they there yet?"

"I'll kill u fam. On yo momma and kids life. I'll kill u"

"Shut up bi*ch. Before ya whole family end up dead. All in pieces, eaten by the dogs bi*ch. I will chop u up & kill u"

To bring up somebody pass life that's just like a white person you fat a** bi*ch your next tho "

"I hope your daughter gets deep throated n strangled to death you filthy pig You're gonna die soon"

"If I ever cross paths with you I'm gone make sure you feel what George felt bi*ch a** cr**ker"

"I'll slit yo throat you albino mountain ape White ppl are animals"

"Tomorrow they gonna shoot you dead"

"Suck d**k And keep an eye on ur loved ones Health is wealth Pu**y"

"I'm coming to your house you burn it down"

"Bi*ch you take that s**t down about Floyd our your s**t gone burn down next"
No Service
Schrecker said, "It's been over 70 days since ole Ennis got my complaint and he can't say he didn't get it either because I have proof that one of his staff, Yolanda Smith, signed for it. Not one phone call, letter, email or text from him or any of his detectives in 70 plus days and counting. The deputy who took the report said that I would be contacted by a detective in two or three days. But there's not been even any attempt to contact me whatsoever. And what's really strange is Sheriff Ennis Wright's bragging about how fast he was able to solve the Kornegay case and yet not a word in 70 plus days about my cases."
"Ole Ennis is all 'Look at me, look at me', I can handle arresting a 21 year old little petite White girl but,…Black men and women who threaten to rape, kill and assault, not so much." Schrecker continued.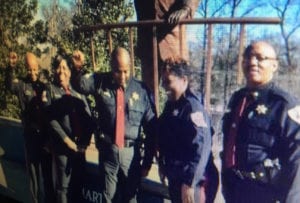 Schrecker went on to say, "So much for ole Ennis' bragging that 'Such crimes will not be tolerated.' Apparently Sheriff Ennis Wright is quite willing to tolerate such hate crimes if they're committed by Blacks against Whites, Asians, Indians or mixed race people like me in Cumberland County. And in my mind it's Sheriff Ennis Wright that's acting in a completely unacceptable racist manner towards me and my family. Our very own Sheriff being racist and not providing equal application and benefit of the law to all people in Cumberland County regardless of race."
"It's very obvious by the way he's handling my cases that if anyone in Cumberland County is White, Asian, Indian, mixed race, or even Independent or Republican in this county that Sheriff Ennis Wright will ignore you and willfully withhold all the law enforcement services you're legally entitled to from you. I promise you that this will be brought up again when he runs for re-election. Cumberland County needs a Sheriff who's fair and impartial to all. And that's certainly not a Sheriff who goes around throwing up the Black Power fist or using race or political affiliation to decide which cases to work" Schrecker added.
The Law
According to N.C. State statutes the law is quite simple and straightforward. The elements of the laws are sufficiently met. And it's equally clear that the Cumberland County Sheriff's Office has jurisdiction, both territorial and subject matter so those are no excuses for such an alleged malfeasance of office by Sheriff Ennis W Wright.
N.C.G.S. § 14-196.3(b) It is unlawful for a person to:
(1) Use in electronic mail or electronic communication any words or language threatening to inflict bodily harm to any person or to that person's child, sibling, spouse, or dependent, or physical injury to the property of any person, or for the purpose of extorting money or other things of value from any person.
(c) Any offense under this section committed by the use of electronic mail or electronic communication may be deemed to have been committed where the electronic mail or electronic communication was originally sent, originally received in this State, or first viewed by any person in this State.
N.C.G.S. § 14‑3(c) [Punishment of misdemeanors, infamous offenses, offenses committed in secrecy and malice, or with deceit and intent to defraud, or with ethnic animosity.]
If any Class 2 or Class 3 misdemeanor is committed because of the victim's race, color, religion, nationality, or country of origin, the offender shall be guilty of a Class 1 misdemeanor. If any Class A1 or Class 1 misdemeanor offense is committed because of the victim's race, color, religion, nationality, or country of origin, the offender shall be guilty of a Class H felony.
An important consideration is that if Sheriff Ennis W. Wright can act this way towards a retired law enforcement officer and Army combat veteran then it's certain that the average civilian in Cumberland County has no chance at all of fair and impartial treatment. This kind of activity portends a deeply corrupt and vicious administration that needs to be investigated. And as we all know, no law enforcement entity is immune from the sunshine and correction as the Spring Lake Police Department and Robeson County Sheriff's Office discovered years ago. Lest we forget, Sheriff Ennis W. Wright is still under investigation for violations of the Hatch Act.
In light of this, if you feel that Sheriff Ennis W. Wright has mistreated you or failed to provide the proper service to you because of your race, political affiliation, religion or any other profile like reason you should feel free to contact TPTN. We'll get the word out and make your issue known.